We can't wait to meet you!
Each member of the Vitality Pelvic Physio team brings their own experience and expertise to the table, but what unites us is our love for people. Our goal is to support folks during all ages and stages of life to find hope for healing and achieve meaningful quality of life improvements. We're a close-knit team that is highly skilled and passionate about pelvic health care.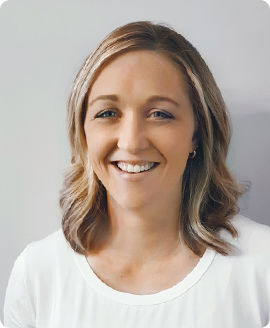 Hi, I'm Carla! – Registered Physiotherapist
When I was first introduced to the world of pelvic health in 2004, I was immediately drawn to the compassionate nature of this specialized area of physiotherapy, along with the concept of treating the whole person, rather than simply treating one problem or symptom.
I graduated from the University of Western Ontario with a Bachelor of Health Sciences Degree (Honours) in 2004. I obtained my Masters of Science in Physical Therapy from the University of Alberta in 2009. After completing my Masters of Physiotherapy, I spent a year treating orthopedic and athletic injuries before giving birth to my beautiful daughter in 2010. This first pregnancy and labour and delivery experience was profoundly different from that of my subsequent two babies. While not all my memories around this time are positive, I am grateful for these experiences for many reasons. Not only has my pregnancy/postpartum journey shaped me as a person, but I believe it has made me a more compassionate and empathetic physiotherapist.
In 2011, I completed the McMaster University Medical Acupuncture Program and pursued my first specialized Pelvic Health Training. Since then, I have taken numerous courses to further my understanding of (and fuel my passion for) treating various pelvic health conditions. My clinical interests include women's health, pelvic health, medical acupuncture, orthopedics, and sports rehabilitation. I am registered with the College of Physiotherapists of Ontario. I am also a member of the Canadian Physiotherapy Association (CPA), Ontario Physiotherapy Association, and the Women's Health Division of the CPA.
The thing that I love most about my job is getting to know my clients and their stories, and then helping them to achieve meaningful quality-of-life improvements. Each person is unique, and I am constantly learning from my clients.
When I'm not at work, you'll find me at the rink watching my kids, playing volleyball, drinking a good cup of coffee (hopefully still hot!), or snuggled up at home reading a book.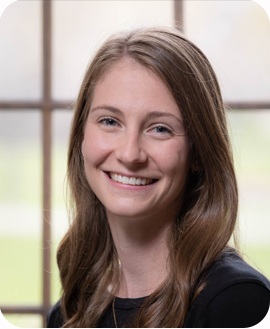 Hi, I'm Emily – Registered Physiotherapist
My interests in clinical anatomy, evidence-based care and passion for working alongside others as they work towards their goals ultimately led me to pursue a career in physiotherapy. I obtained a Bachelor of Science from the University of Western Ontario in 2016 prior to my Masters of Physical Therapy from the University of Toronto in 2018. During this time, I was drawn to the complex and sensitive nature of the field of pelvic health.
I enjoy working with people of all ages and stages of life as they work towards their health and wellness goals. Some of these areas of care include incontinence, prolapse management, back pain, pelvic pain as well as rehabilitation pre and post gynaecological and urological surgery. My clinical interests have motivated me to pursue additional training in pelvic health and orthopaedics including providing care to trans and gender diverse individuals as well as during pregnancy and beyond. In addition, I have completed training with the McKenzie Institute to assess and treat low back pain. I am a firm believer of life-long learning and I practice with a multimodal treatment approach including education, individualized exercise prescription and manual therapy. I am registered with the College of Physiotherapists of Ontario and I am a member of both the Ontario Physiotherapy Association and Canadian Physiotherapy Association.
In my spare time I enjoy reading with a cup of tea, camping, being active with my husband and our Labrador Retriever and spending time with family and friends.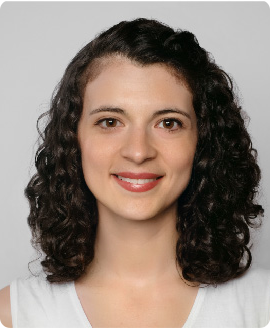 Hi, I'm Sophia – Registered Physiotherapist
Sophia is currently on maternity leave, returning Dec. 2023.
A significant low back injury in high school redirected my dance career aspirations towards physiotherapy, after experiencing firsthand how the combination of scientific knowledge and a trusting relationship could get me back on my feet (literally and figuratively).
Since graduating with my Doctor of Physical Therapy (DPT) from Boston University in 2013, I have worked in both orthopaedic and pelvic health physiotherapy settings in the US and Canada and pursued certification courses in manual therapy and dry needling. With an interest in understanding the body and person more holistically, I completed a Master of Arts in Theological Studies in 2016 from Regent College, where I had the opportunity to study the intersection of spirituality, sexuality, neurophysiology, and faith. In 2019, I moved towards specializing in the pelvic health field full time, landing me in London, Ontario.
I am registered with the College of Physiotherapists of Ontario and a member of the Canadian Physiotherapy Association (CPA), the Women's Health Division of the CPA, and the Ontario Physiotherapy Association. I continue to enjoy post-graduate learning with a few courses per year offered by leading pelvic health education organizations.
When not in the clinic, you'll find my introverted self plunked on the couch watching BritBox, enjoying a latte at a local coffee shop, trying to take my gardening and birdwatching skills from beginner to intermediate, playing board games with my husband, and trying somewhat successfully to exercise regularly.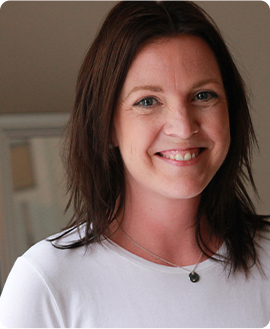 Hi, I'm Kate! – Administrative Manager
"As human beings, our job in life is to help people realize how rare and valuable each one of us really is, that each of us has something that no one else has". -Fred Rogers
Nothing makes me happier than being surrounded by people. I have the distinct honour of being able to interact with every single person that enters our office, and that is why I love coming to work every day. To me, it is an honour to bring my administrative experiences to this environment of healing and education.
I bring over ten years of office experience with me into my role as admin manager and client care coordinator. I do have extensive experience with all administrative tasks, including scheduling and correspondence. Having held various administrative positions in the extended health industry, I am able to tailor my skills to meet the unique and individual needs of each one of our clients. I look forward to connecting, either in our waiting area or over the phone.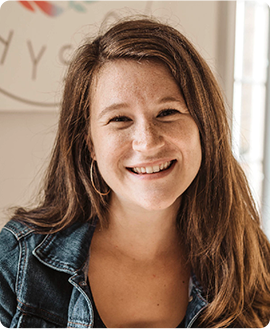 Hi, I'm Nikki! – Marketing and Special Projects Coordinator, Doula
You don't know what you don't know, and I entered into the birth-y world as a doula having no idea that navigating the pelvis and the pelvic floor was such an integral part of birth and postpartum. I've had the privilege of witnessing here how pelvic floor physiotherapy can change the trajectory of a person's birth experience and recovery thereafter. And birth is just a small part of the picture in pelvic health and wellness.
It is a joy to work in a place that empowers folks in our community to thrive through compassionate and evidence-based care. My role at Vitality is to highlight this life-transforming work through social media, marketing campaigns, and other special projects.